The Hanunoo Mangyan
The Hanunoo Mangyan of the Philippines' island of Mindoro are notable for their colourful jewelry and headbands made of seeds (just caught in the photo below) and for having their own hieroglyphic alphabet which they inscribe on bamboo canes. Quite a few still wear the loincloth, although usually with a T-shirt on their upper body as well, and some of their communities are relatively easy to access when compared to other more isolated and reclusive Mangyan groups such as the Batangan and Bangon. On top of this the nearest coastal town has some stunning beaches and offshore tropical islands and other nearby coastal villages have markets to which Mangyans from lots of different interior tribes come on foot to trade.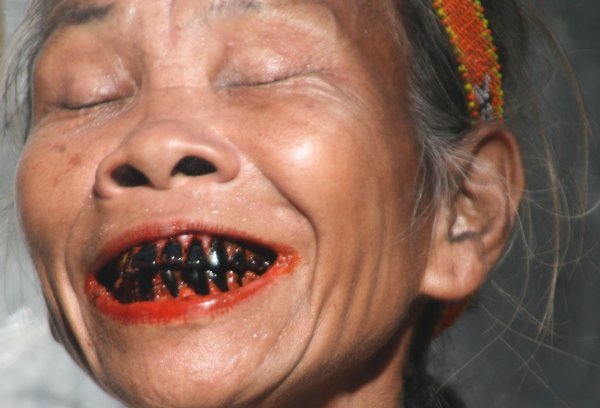 The nearest coastal town to the Hanunoo is Bulalacao. To get there from Manila, take the ferry from Batangas to Calapan then the jeepney or bus to Bulalacao. Alternatively fly from Manila to San Jose then take the jeepney or bus to Bulalacao. If coming from Palawan, there are also very irregular pump boats from Coron to San Jose. There are also dodgy, irregular pump boats from Odiongan on Tablas (Romblon Province) and Caticlan on Panay to Roxas on Mindoro which is closer to Bulalacao than Calapan.
In Bulalacao there are a couple of simple guest houses whose owners can recommend you which nearby villages have tribal markets on which days and at what times the jeepneys leave Bulalacao to get there. Two examples of these markets are at Manaul and Bangkal, although the former is by far the more colourful, with dozens of Mangyans from different tribes wandering the streets and alleys. As mentioned on other pages, however, Mangyans are extremely shy and wary of outsiders unless accompanied by someone they know, so talking to them or even buying something from them can be pretty difficult at these markets.
One of the town's motorcycle taxi drivers, Michael, may well meet you when you arrive in Bulalacao and offer you a lift to a guest house. He is a personal friend of the chief of Benli, a Hanunoo Mangyan village in the nearby hills. He can take you there and introduce you to people, a great opportunity to actually communicate with Mangyans at length which you are highly unlikely to get just by visiting markets on your own.
People from Benli can also guide you on the trek across Southern Mindoro into Gubatnon territory near San Jose. See the Gubatnon Mangyan page of this website, however, for a couple of small warnings about this trek.
Click here for by blog about the Hanunoo and Gubatnon Mangyan. It's 5418 words and 19 photos.

by EddyV with no comments yet.